Regular price
$20.00 USD
Sale price
$18.00 USD
Unit price
per
Sale
Sold out
Elevate your style with our abstract dainty medium hoops with crystals. These exquisite waterproof earrings are designed for the woman who appreciates the finer things in life and values high-quality jewelry that stands the test of time. Made with durable waterproof materials, these earrings are perfect for the woman who lives in a tropical climate, and is looking for elegant and stylish jewelry that can keep up with her active lifestyle. The abstract dainty hoops design looks like a beautiful banana or half moon. Adds a unique touch to any outfit, making them perfect for both casual and formal occasions. Whether you're dressing up for a special event, or adding a touch of glam to your everyday look, these gold hoops will elevate your style and complement any outfit. Available in Gold.
THE PERFECT GIFT FOR HER — This is the ideal gift for your sister, daughter, mom, wife, niece, aunt, best friend, girlfriend — or yourself! Whether she prefers modern or traditional jewelry.
Material: Highly polished vacuum Stainless Steel & 18k Gold Plated for a refined metallic luster, better texture, lasting To Keep Colors! Gold Plated is getting popular for its durability, corrosion, tarnish and water resistance and beauty.
Earrings comes in a Pouch.

Earrings Details:
Stainless Steel

18k Gold Plated

Water Resistant

Hypoallergenic

Does not tarnish and with the right care it can last you for years. 

Check Our 

Jewelry Care

 Instructions.
Fashion Tip: Combine it with a delicate necklace for a classy sassy style or with multiple and chunky chains for a bold look. 
Care Instructions

Hello Luxy Jewelry Care:

The 99% of our jewelry are made of High quality water resistant and durable materials to maintain their colors. However, you need to clean your jewelry with clear water if you wear them at pool or at beach. We also recommend it to clean it with a micro fiber cloth every time you use them to help them last longer. Every human has a different PH that can make your jewelry tone it down, and type of skin; we are not responsible for any reaction wearing our jewelry. 

We have tested our jewelry in different type of water and have last for years. However, our jewelry is not Pure Gold. If you are looking for a lifetime jewelry, there are other options in the market but Water Resistant Jewelry is an affordable option that can last for a couple year with the right care. 

Jewelry by nature is delicate and refine and it should be worn and handled with care. Avoid direct contact with hard objects.

However, here are a few recommendations that are included in our Jewelry Care Card to ensure that your jewelry will last longer:

Keep it Dry! Store your Jewelry individually or in pouches.

Avoid substances such as perfume & other chemicals when wearing our Jewels, to prevent discoloration. 

Don't wear your jewelry when you will be swimming or sweating to last longer. Our jewelry is water friendly but always read the product description because there are some pieces that are just Gold plated or with delicate crystals that we do not recommend to wear them on water.
For extra care, gently wipe each piece of jewelry to clean of any products or natural skin oil, with a soft jewelry polishing cloth. 

 

CARE INSTRUCTIONS FOR YOUR STAINLESS STEEL JEWELRY:

Your Luxy Envy Jewelry could be on stainless steel and hypo-allergenic. Stainless steel is durable and resists corrosion and oxidation. Our jewelry will not rust, tarnish, or turn your skin green, even if worn daily.  

More reasons why Stainless Steel is the best...


The health benefit is it's hypoallergenic. This is a great choice for all those who have sensitive skin to certain metals.

This will not turn your skin green or any other color. Unlike many other metals, these are safe to wear and no harm will come if you wear stainless steel for life.

Stainless steel does not fade. It's durable and near scratch proof. Stainless steel shines just like real silver or gold.

Your Luxy Envy is more than just an everyday jewelry piece... they're your memories. Preserve your memories by ensuring the longevity of LUxy Envy jewelry with these basic care instructions...

Stainless Steel Care Instructions...

Like many other metals, stainless steel can get scratched and lose it's luster, therefore becoming dull. However, this does not mean you throw out your stainless steel jewelry since restoring it is easy to do and can be done right at home.

1. Soap and Water...

The simplest way to clean your stainless steel jewelry is with a bit of soap and water when it's dull and dirty. This helps clean off any pollutants and grime on your jewelry. Remember to please use a mild liquid soup and warm water. 

Soak the stainless jewelry in a bowl containing a mixture of mild soap and warm water and let sit for a few minutes. Next, take a soft cloth and rub the jewelry. For hard to reach areas, like grooves or engravings, you can use a soft-bristled toothbrush that will ensure you reach those hard to get places. Once you've thoroughly cleaned off your jewelry, reassure you've dried your piece with another lint-free cloth to remove all possibilities of water spots.

2. Baking Soda...

Believe it or not, baking soda is a great cleaner for stainless steel jewelry. Making a thick paste of baking soda mixed with water, use a toothbrush to slowly clean your jewelry. Once you've cleaned it thoroughly take a lint-cloth to dry your piece an ensure it's completely dry. (YouTube has many videos that show how to do this)

 3. Gel Tooth Paste

This was another method that many people swear by to clean their jewelry among many other things. As this may be an okay method, it is pertinent that you are careful of the type of toothpaste you use. Stay away from any kind of toothpaste that has whitening agents as they can be abrasive and harsh. The toothbrush ensures those hard to reach areas of your stainless jewelry piece are squeaky clean.

Helpful Tips and Things to Avoid...

Avoid harsh chemicals. Bleach and chlorine can damage the surface of stainless steel metal, therefore, we recommend you remove any jewelry before swimming in chlorinated pools.

If you choose to go with a jewelry cleaner, make sure that it is safe to use on stainless steel metals, as some cleaners can be abrasive and scratch steel.

Avoid storing your jewelry with other sharp objects or jewelry as this could scratch it instead of store your stainless steel jewelry separately in a fabric-lined box or the cloth pouch that was included with your item.

We want Your Luxy Envy Jewelry to last a lifetime. With the proper care, your stainless steel piece will maintain its luster for many moons to come. 

Ten Ways to Extend the Life of Your

Gold Plated

Jewelry

1. Wash your hands before putting on or taking off plated jewelry.
2. Put on gold plated earrings after you've applied your perfume.
3. Put on your plated jewelry after you have applied lotion or put on makeup.
4. Take off your plated rings or bracelets before chopping tomatoes for dinner.
5. You also might want to remove your plated jewelry before changing junior's diaper.
6. Avoid rubbing plated bracelets and necklaces against each other. Try to prevent plated rings from banging into counter tops and rubbing against car keys buried in pockets and purses.
7. Don't swim in your plated jewelry. See below.
8. Don't wear your plated jewelry when you'll be sweating profusely. Covered later.
9. Clean your plated jewelry gently, and don't rub it. Covered later.
10. Store your gold plated jewelry in a pouch or soft cloth separate from other jewelry.

Seriously, Salt Water can Hurt Your Plating

I've been asked why salt water would effect gold plating. Plating is an electrical process, and salt water is a good conductor of electricity. Getting technical here, molecules of salt are made of sodium ions and chlorine ions. When you combine salt with water molecules, the water molecules pull the sodium and chlorine ions apart so they are floating freely. Those ions are electricity carriers through water. What electricity in the plating process deposits, water and salt in the ocean can to a lessor degree un-deposit. If you swim regularly in the ocean it will speed the breakdown of your plating.

Rose gold plating is particularly vulnerable to salt water. This is because salt is corrosive to copper and there is a lot of copper in rose gold plating.

Why Swimming Pools and Jacuzzi's Can Damage Gold Plated Jewelry

The chlorine and other chemicals added to swimming pools and hot tubs can also produce adverse effects on plated jewelry. The chlorine in Jacuzzi's and pools, will attack various metals. This will hurt your plating. It can cause a dull look or an uneven look to the gold.

Perspiration and Your Personal PH level

Last but not least, one's own body chemistry can be harsh on plating. Just like fruit, some people are more acidic than others. Depending on one's diet, it's not uncommon for chemicals perspired through the pores of the skin to cause plated jewelry to tarnish and discolor.

Some people sweat more than others. If Jill works out for two hours every day and Joyce is a CPA riding a desk, Jill should remove her plated rings before going to the gym and Joyce,  can stylishly rock her gold plated bracelets and necklaces while crunching numbers.

Cleaning and Caring For Your Plated Jewelry

Plated jewelry should be cleaned periodically. Even if you're sure your ring hasn't been exposed to any of the aforementioned substances, it's been in contact with your skin—which does perspire.

Wash plated jewelry with warm water. Use a mild soap only if necessary. Getting junk out of nooks and crannies with an old, soft toothbrush is Okay. If you need to use toothpaste use a gentle one with no whitening agents or abrasives in it.

Be gentle and don't rub too hard. I've seen examples of gold plated jewelry where vigorous rubbing with a polishing cloth took off some of the gold plating, revealing the darker less appealing metal underneath.

In some cases WD-40 is a good cleaner for gold plated jewelry. It's tougher on dirt and sticky substances than gentler dish soap, yet in the short time it is in contact with your plated jewelry, won't hurt it.

Other jewelry can damage or scratch your plated jewelry. Store your plated pieces separately to extend their life.  

 

Ten Ways to Extend the Life of Your

 

Gold Filled

 

Jewelry

Gold filled and vermeil products are a great, quality alternative to the much more expensive solid karat gold. It's high in quality & with proper care and storage, you will have affordable jewelry that lasts. It's the economical way to enjoy the luster of gold without the big price tag.

Gold filled is an actual layer of gold pressure bonded to another metal such as brass. It's not to be confused with gold plating as filled literally has 100% more gold than gold plating. Gold filled is much more valuable and tarnish resistant if taken care properly. Most people who can wear gold can wear gold filled without worries of any allergic reaction to the jewelry. Solid gold is of course an exquisite piece of jewelry, but gold filled is an amazing (& affordable!), quality alternative. .

Tips to make it last

Humidity is the enemy; keep it dry! Store your goodies individually in the air-tight plastic baggie included with your chain necklace.
Avoid rough wear to slow down the natural process of "wear and tear".
Perfume, hairspray & other types of lotion may contain harsh chemicals that can tarnish your jewelry overtime.
For extra care, gently wipe each piece of jewelry clean of any products and skin oils with a soft jewelry polishing cloth.
Never use abrasive products to clean your jewelry. They can damage gold plating irreparably.

Haven't bought one yet? Well..., we hope these tidbits have helped provide you with the reassurance you were waiting for. We take pride in our jewelry. So, whether your shopping for a friend, a family member, or for yourself, you can shop Your Luxy Envy Jewelry with the upmost confidence, knowing that we stand behind our product. 

Care Instructions for your 

Brass

 Jewelry:

Start by determining if the piece is solid brass or just brass plated. Take a magnet and place it against the brass. If the magnet does not stick, then it's solid brass. If it does stick to the piece, then it's plated. Brass-plated pieces can be cleaned by simply scrubbing with hot, soapy water. But, don't use anything too abrasive or you might rub off the plating.

Polish the brass:

Before you get started on polishing, always wash the brass before polishing it. All you need is warm water and mild dish soap. Use a soft, damp cloth to apply the soapy water, and clean it until all debris, dust, and dirt are gone.

There are plenty of store-bought brass cleaners that you can use. Here's a list of what Sorenson and Hartman consider the best brass cleaners. 

If you don't have any of these at home, don't worry! you can make a natural cleaners at home:

Lemon and Baking Soda Polish

Combine the juice of half a lemon with a teaspoon of baking soda and stir until it becomes a paste. Apply the paste with a soft cloth. If the tarnish is heavy, let the piece sit with the paste on it for 30 minutes. Rinse with warm water and dry. Repeat if necessary.

Lemon and Salt Polish

Slice a lemon in half and cover the cut section with a teaspoon of table salt. Rub the lemon on the tarnished piece, squeezing it as you go to release the lemon juice. Rinse with warm water and dry.

Flour, Salt, and White Vinegar

Combine equal parts of all three ingredients to create a paste. Apply a thin layer of that paste to the tarnished brass and leave it for an hour before rinsing with warm water and drying.

Ketchup, Tomato Sauce, or Tomato Paste

When you wondered how to clean brass, you probably didn't think ketchup would be involved, but—surprise—it is! Tomatoes contain an acid that helps to remove tarnish on brass and other metals; that's why applying a tomato-based product can work wonders on your brass. Ketchup, tomato paste, and tomato sauce all work equally well. Apply a layer to your brass and leave it on for an hour. Then wash with warm water and dish soap. Let it dry.

Experts says that you may want to leave the tarnish on the brass for an antique vintage look. Sometimes the beauty of an antique brass object is its tarnish, in which case jewelry experts recommends leaving it alone. "Oftentimes it's best to forgo the polishing process altogether," noting that polishing antiques could significantly reduce their value. "Too often I see what would be a wonderfully patinated item significantly degraded by a bad decision to restore it to a like-new state."
HL Materials

Hello Luxy strives to put quality first while providing affordable jewelry options.

Gold Filled

Gold filled jewelry is the most affordable way to get durable, high quality pieces that if well cared for, will last a lifetime.

5% Gold

99.99% of people will not have an allergic reaction to gold filled jewelry

Can be worn while sleeping and in the shower with mild soaps

Clean gold filled pieces by wiping off with a soft cloth or let pieces soak for a few minutes in warm water with gentle soap

Sterling Silver Filled

Silver filled jewelry pieces are very durable and offer a higher quality experience than silver plated.

5% sterling silver

Less prone to scratching than silver plated

Sterling silver filled pieces can be worn in water but it is not recommended due to the long term affects of slight discoloration

Swarovski Pearls

Swarovski Crystal pearl is created by using a Swarovski crystal at the center and finished with a pearl coating.

Glass

Glass seed beads are made of high-quality glass that is durable, study and glossy.

Gold-Plated

Gold-plated jewelry is stronger than solid gold. Gold is a soft metal, and can easily be nicked or bent. Gold-plating has an attractive finish that is sturdy and durable.

Hello Luxy gold-plated components are made in Brazil and USA which ensures a greater quality value

We do not recommend wearing gold-plated pieces while sleeping or in any form of water

Silver Plated

Silver plated jewelry is an affordable option that offers durable quality due to the base metal used.

With proper care silver plated items can last many years

Avoid wearing while sleeping and in water to provide a longer lifespan for the jewelry

Avoid silver plated jewelry if you have a nickel allergy as it can cause itchy skin

Swarovski Crystals

Swarovski crystal components are considered the finest products of their kind in the world.

Can be worn in water and while sleeping

Freshwater Pearl

Freshwater pearl beads have a beautiful cream color and exceptional luster.

To ensure a long lifespan for freshwater pearl jewelry pieces avoid wearing them while sleeping and in the water
Shipping & Returns

Returns & Shipping Policy on Hello Luxy:

Thanks so much for choosing our Business!

Order processing:
All orders are processed in less than 48 hours but during High Season the processing time can be up to 72 hours. 

Shipping:
We send packages to Puerto Rico, United States, Dominican Republic, Mexico and other Atlantic Countries. We offer Free Shipping on orders above $50 in United States and PR. Other countries are not included in the Free Shipping Policy. 
Once the order is processed, the package will be shipped in the next 2 business day and the estimated delivery date is between 3 to 5 days in USA and PR. During high Season you can expect some delays to receive your package. Our main carrier is USPS. Please make sure that you provide the correct address. If you provide a wrong address, we cannot change it when the order has been shipped. 

Returns: 

We take pride in providing high-quality jewelry and exceptional customer service. To maintain the quality, hygiene and safety standards of our products, we have implemented a strict no return policy. Please read the following policy carefully before making a purchase. 

We offer clients the necessary information to take care of their jewelry pieces. Our jewelry has no money back. If the jewelry arrives broken, the customer can return it for exchange or a store credit. The customer has 7 days from the day it was delivered, to contact us.  

Quality Assurance:

We thoroughly inspect all our jewelry items before they are shipped to ensure they meet our quality standards. We inspect every piece before ship it and in most of the cases make videos while preparing your orders.

In the unlikely event that you receive a damaged or defective item, please contact our customer service team at at info@helloluxy.com within 7 days of receiving your order. We will gladly assist you with a resolution. 

We offer returns if we made a mistake in our order or if the item was sent damage. When the item is damage, you need to send us a picture of the item and we will send you the return address and let you know the process to follow. 

The customer must pay the shipping of the return package.

* Customer needs to send the piece in the original jewelry pouch in which it was received.

Cancellation Policy:

Orders cannot be canceled once 24 hours have passed since they were placed. Please review your order carefully before completing your purchase.

By making a purchase from Hello Luxy, you acknowledge and agree to abide by this no return policy. We appreciate your understanding and thank you for choosing us for your jewelry needs.

For Personalize items, we cannot offer returns since the item is made for you. Sorry for the inconveniences!

If  you have any question regarding your order, you can write us an email to: info@helloluxy.com

Best Regards,

Hello Luxy LLC
Frequent QA

Q: Is it safe to use my credit card on your site?

A: Shopping at Hello Luxy is safe. We process all sales through a secure Shopify Payments system. We also offer Paypal as an additional payment option. 

 

Q: When will my credit card be charged for my order?

A: 

 Hello Luxy

 Jewelry charges your card for the full amount when your order is processed. 

 

Q: What is the status of my order?

A: Orders placed Monday-Friday before 2 PM EST will be processed that day, excluding holidays. All orders placed after 2 PM EST will be processed the next business day. Orders placed on Friday after 2 PM EST will be processed on the following Monday.

 

Q: How do i know when my order has shipped?




A: Once your order has shipped, you will receive a confirmation email directly from us with your tracking details. Be sure to check your SPAM folder as the emails have the tendency to be re-directed there. 




 



Q: How long until I receive my item?

A: (Standard) First Class USPS: 4-8 business days. 

A: (Standard) UPS Ground: 1-5 business days.

A: (Express) Priority USPS: 2-3 business days. 

*All carrier delivery timelines are estimates and not guaranteed. 


 

Q: Do you ship internationally?
A: Yes, we ship worldwide. Shipping Cost vary based on your location. We offer Free USA & PR Shipping on Orders over $50.00

Q: What forms of payment do you accept?

A: We currently accept Visa, MasterCard, Discover, American Express, Google Pay, Apple Pay, and Paypal for all orders. 

Q: Can I return or exchange my collection piece?

A: If you are not 100% satisfied, you can return any full priced items for a refund within 30 days of receiving your package. Sale items are not returnable. Sale items include site wide sales and Sample Sale items. To make a return, or for more information on returns please visit our

 

returns

 page.   

Q: Can you ship to a po box?

A: Yes

My order hasn't arrived yet, what do I do?

If it is beyond the estimated shipping times since you have placed your order, just email us with your order number at info@helloluxy.com and we will start checking it ASAP.

What if something is wrong with my order?

If you have a problem with an order from this store, please get in touch with us directly at info@helloluxy.com ASAP and we will help you!
Share
View full details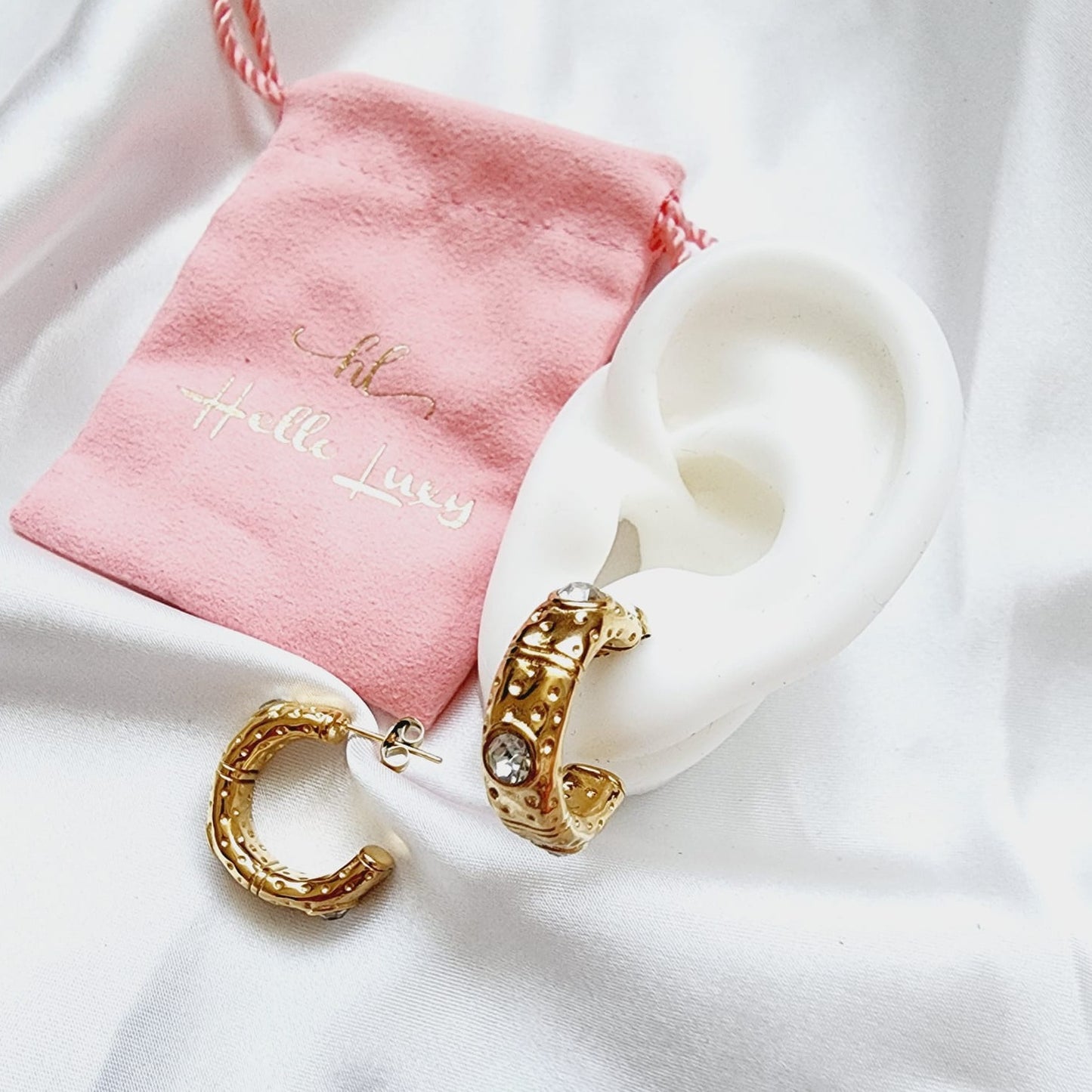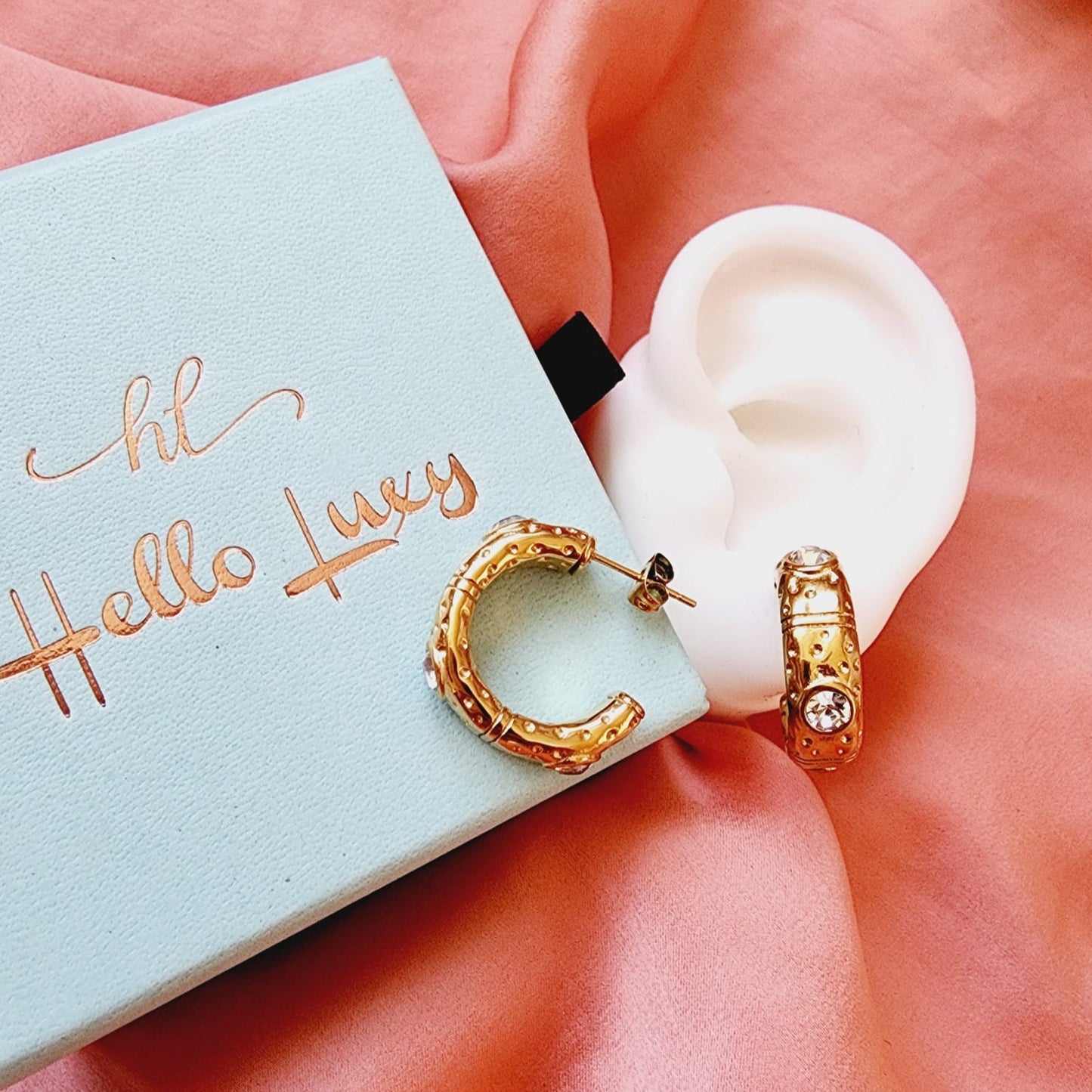 High Quality Jewelry
Our Jewelry is Water & Sweat Resistant, Tarnish Free and Hypoallergenic. Our goal is to provide high-end jewelry at affordable prices.